Basic Info
Funtion: Slimming Lose Weight, Keep Fit.

Usage: One Time Daily, One Pack/Time

Origin: Cn

Efficacy: Weight Loss & Slimming

Specification: 10g/Times; 20 bag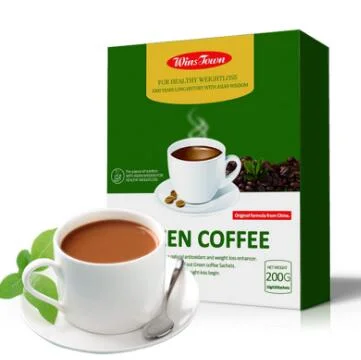 Product Description
Product name: SlimmingGreen Coffee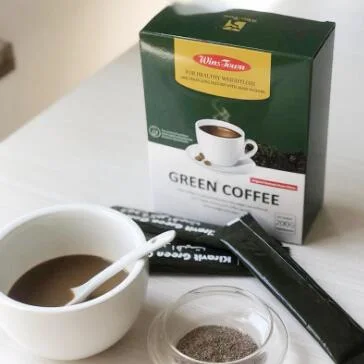 Discover the ancient secrets of the orient.
Green coffee is a natural antioxidant and weight loss enhancer.
Get a 20 day supply of out Green coffee Sachets . let the weight-loss begin.
Original formula from China.
Supresses appetite safely
Green coffee Formula is a "drug-free" dietary supplement that was developed
from a blend of herbal extracts. When used with a healthy diet plan, Green coffee curbs your appetite and stimulates your body to burn fat and calories.
INGREDIENTS: Instant coffee, green coffee extract, l-carnitine, green tea extract, garcinia cambogia extract, ginseng extract, cactus plant extract, lotus leaf extract, guarana extract, senna leaf extract.
About the product
Top selling brands for slimming coffee in China.
No fatigue , No harm, Reduce Appetite & Weight Loss.
Energy Booster, Increase Metabolism, Promote healthy skin.
DIRECTIONS: Take 2~3 Sachets Daily
CONTENTS: 20 Sachets of Green coffee in a factory sealed box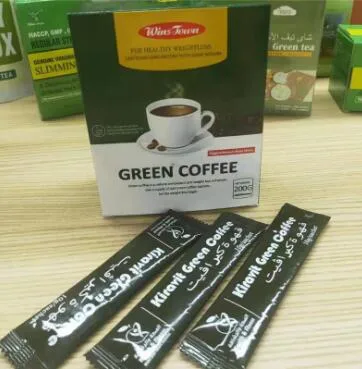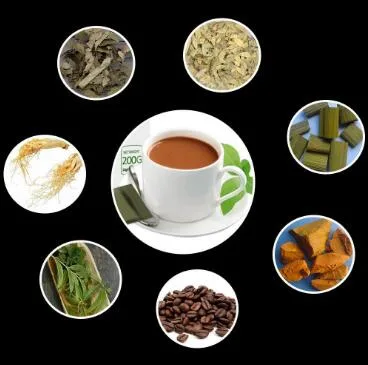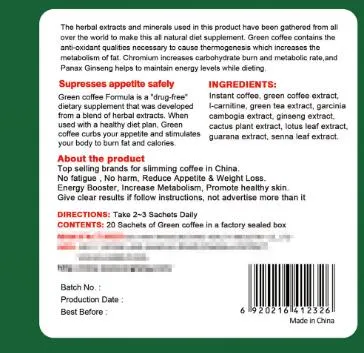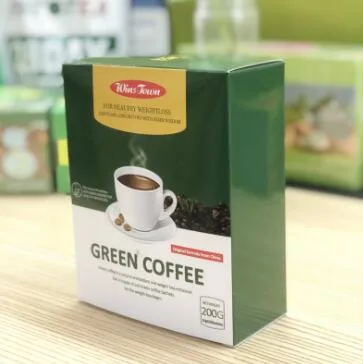 [Effects]

2. Restraining the absorption of excess starch, grease, sugar and related substances
3. Making your skin firm, smooth and delicate with various nutrients, vitamins and minerals essence inside

[Mechanism of Action]
1. Increasing satiety and suppressing appetite
2. Smoothing the intestines to relax the bowels and cleaning the intestines system
3. Directional oil and fat reduction rather than body water reduction
Ingredients: Hunger-Oblivion Grass, Griffonia Simplicifolia, Immature Bitter Orange P. E extracts. Instant Coffee


[Indications] Serve as traditional instant coffee
[Specification] 10g× 20bag
[Direction] 1bag per day

[Suitable For] For simply obesity, post partum fat, and people who want to keep fit.
[Precaution] Not suitable for pregnant or breast-feeding women, cardiovascular disease and stroke patients.
[Storage] Place in airproof, shady and dry condition.
[Shelf Life] 24 month
[Storage] Place in airproof, shady and dry condition.


Note:
.OEM/ODM services, Semi-finished weight loss product, Raw material supply.
.Customize/private label products - Minimum MOQ, Lowest price, High quality guaranteed.
Functional Ingredients
hunger-oblivion grass
griffonia simplicifolia
immature bitter orange
p.e extracts
instant coffee