Product name: Curcumin Powder
Latin Name: Curcuma longa Linn
CAS NO: 458-37-7
Grade Standard: food grade
Plant part used: Root
Appearance: Orange-yellow powder
Packaging: 1kg/bag,25kg/drum
Assay: 95%
Test Method: HPLC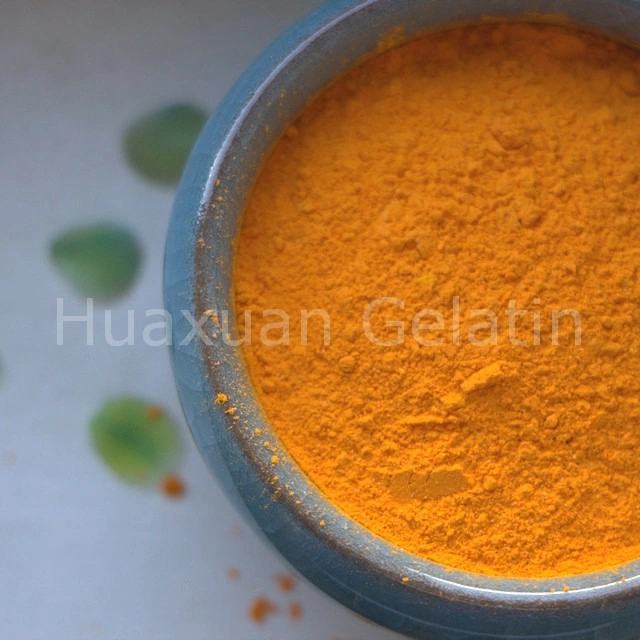 Curcumin Powder is a chemical constituent extracted from the rhizomes of some plants of Curcumaceae and Araceae. Curcuma contains about 3%-6%. It is a rare Dione pigment in plant kingdom and is a Dione compound. Curcumin is a kind of orange-yellow crystalline powder with bitter taste and insoluble in water. It is mainly used in coloring of sausage products, canned products, sauce and brine products in food production. Medical studies have shown that curcumin has the effects of lowering blood lipid, anti-tumor, anti-inflammatory, choleretic and anti-oxidation. Scientists have discovered that curcumin can help treat drug-resistant tuberculosis.
Specification
Basic information
Product Name
Curcumin
Plant source
Curcuma longa
Appearance
Yellow-Orange
Solvent Used
Ethyl Acetate,Ethanol
Sterilization Method
NO-IR&GMO free
Indicator component
Curcumin
Between 70-80%
Total Curcumin≥ 95.0%
Desmethoxycurcumin
Between 15-25%
(HPLC)
Bisdesmethoxycurcumin
Between 2.5-6.5%
Particle Size
NLT 80% Through 80 mesh
Physical Characteristics
Loss on Drying
≤5%
Ethanol Residues
≤5000ppm
Ethyl Acetate Residues
≤5000ppm
Total Heavy Metals
≤10mg/kg
Arsenic
≤3mg/kg
Heavy metals
Lead
≤2 mg/kg
Mercury
≤2 mg/kg
Cadmium
≤3mg/kg
Total Plate Count
≤3000cfu/g
Total Yeast & Mold
≤300cfu/g
Microbiological Tests
E.Coli
Negative
Salmonella
Negative
Staphylococcus
Negative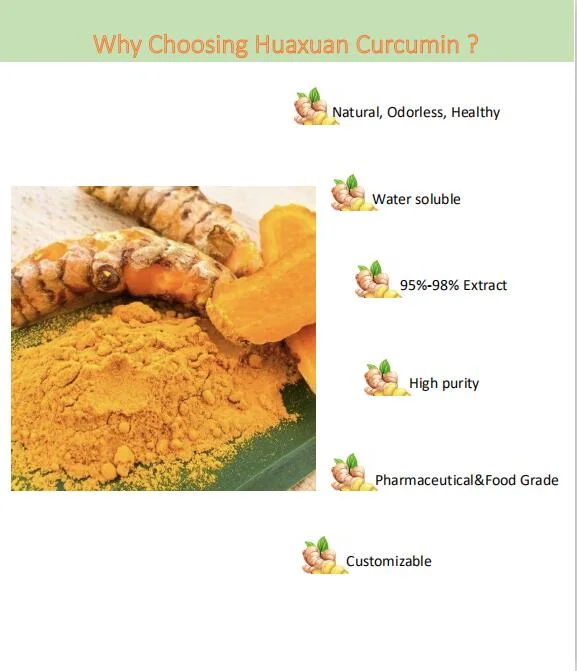 Application&Function
Application:
1. Containing antioxidants, which protect cells against damage caused by free radicals;
2. With Antiviral, antimicrobial and antiparasitic and Antithrombotic activity;
3. Help in preventing hair loss, especially male pattern baldness;
4. Improving blood circulation, lowering blood pressure and treating amenorrhea, and protecting the liver;
5. With the function of lipid-lowering, anti-inflammatory, choleretic, anti-tumor and anti-oxidation;


Function:
1. Curcumin has a strong antioxidant capacity for retarding aging.
2.Inhibition of DNA abnormal hyperplasia, cancer prevention effectiveness to achieve.
3.Lowering cholesterol
4. Regulation liver functions, and improve liver disease
5. It has an effect on the loss of appetite, indigestion, and other diseases of the digestive organs.
6. Turmeric is the treasure house of minerals, has special effects on anemia
7.Stimulated strong liver function
8. Improve immunity.
9. Helping to prevent dementia.
10. Antioxidant,anti-inflammatory,antifungal.
11. Preventing the body from the damages of free radicals.
12. Preventing swelling of the joints, arthritis, cardiovascular disease and cancer.
13.Having anticoagulant, lipid-lowering, anti-atherosclerotic, anti-aging, and inhibiting growth of tumor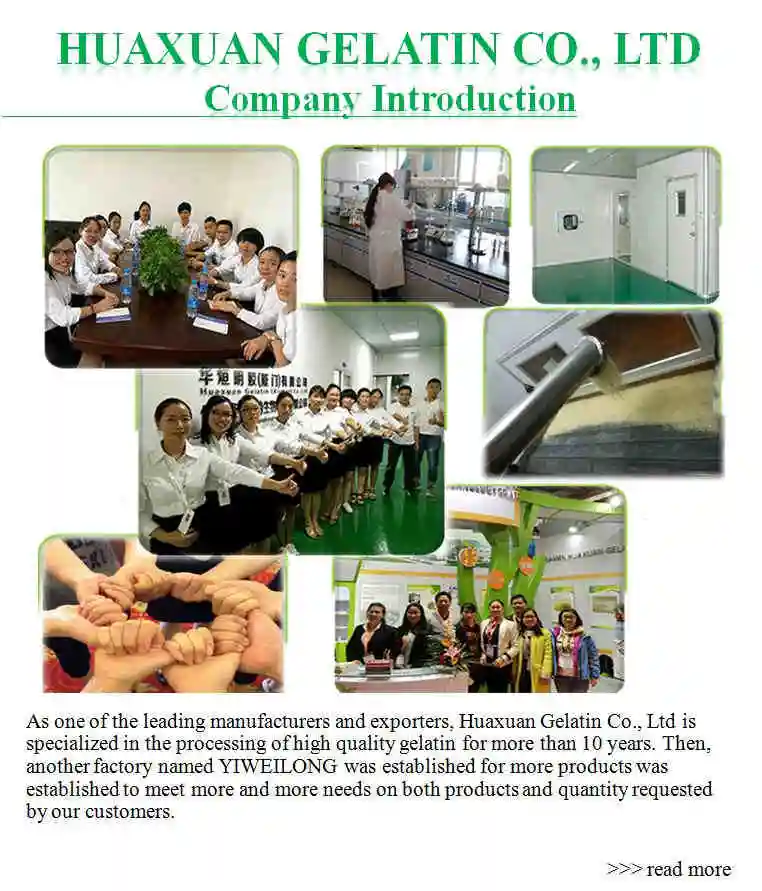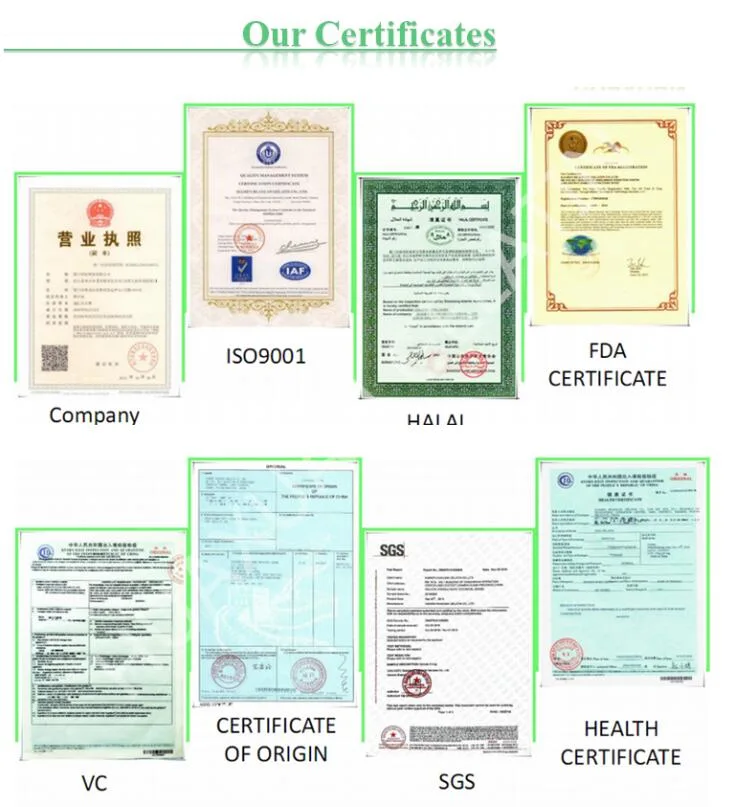 FAQ

Q1: What's the Minimum Order Quantity?
A:100kg, but usually we accept less quantity such as 1kg on the condition that the sample charge is 100% paid.

Q2: How to Get Sample?
A: Sample would be sent soon after we receive the FedEx No. from clients.(Test fee USD80 for Fedex dispatching has been paid by our company.)

Q3: How to start orders or make payments?
A: Proforma invoice will be sent first after confirmation of order, enclosed our bank information. Payment by T/T or L/C.

Q4: What is Lead Time?
A: Generally, cargo could be loaded on ship in about two weeks after the date of receiving prepayment or L/C. Sometimes one week earlier or later.(Chinese holiday not included)

Q5: What's the bulk Packing?
A: for bulk packing, 25kg or 20kg per bag, outer package kraft paper bag or Woven polybag, inner is a plastic water-proof bag. If pouch packing is in need, it could be customized.

Q6: How to confirm Product Quality before placing orders?
A: You can get free samples for some products, you only need to pay the shipping cost? or arrange a courier?to?us and take the samples.You can send us your product specifications and requests, we will manufacture the?products according to your requests.

Q7: How to contact us?
Address: Factory Building, No. 32, Aoguan Miaodou, Haicang District,
Xiamen361003, Fujian Province, China