2020 lip filler hyaluronic acid gel dermal/ cross linked hyaluronic acid dermal / hyaluronic acid injection filling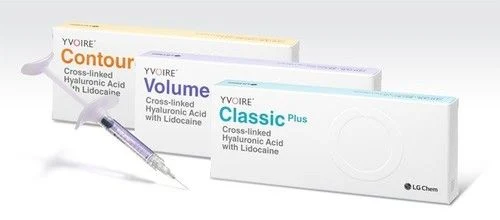 WHAT IS YVOIRE ?
Made with hyaluronic acid, YVOIRE is used to provide a smooth, natural look to aging skin. Its small particles are evenly distributed in a highly concentrated hyaluronic acid gel, ensuring a uniform dispersal of gel across the treatment area. This solution may also be used to augment and fill the lips.
YVOIRE is crafted with hyaluronic acid, a substance found in a variety of the body's tissues. Capable of combining with excessive water, hyaluronic acid works to improve skin texture, hydration, and volume. With this, it works to restore the health and beauty of facial tissue, working to reverse the visible signs of aging.
This unique dermal filler comes complete with a specially-designed syringe, crafted with practitioner in mind. With the unique curve of its plunger, it sits comfortably in the user's hand, working as an effective extension of their fingers. This allows for the injection process to operate more smoothly, allowing for optimal results.
Each package of YVOIRE contains 1 prefilled 1mL syringe, 22mg/mL cross-linked hyaluronic acid solution, and 27G and 30G Terumo thin-walled needles. This product should be stored for no longer than 18 months in a hermetic container. It should be kept between 2 and 25°C, and should be stowed out of the reach of light.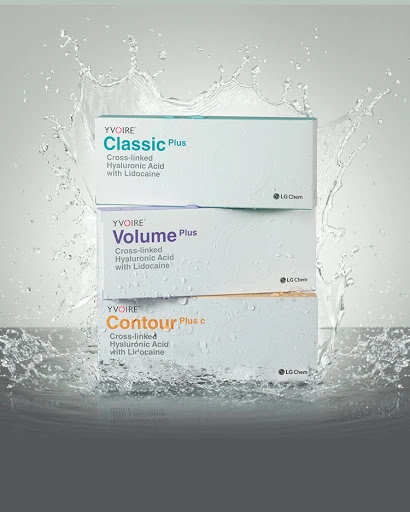 Q: What is the MOQ ? Can I mix with different models?
A: MOQ is 5 pieces, you can mix different models.
Q: Is the Neuramls Hyaluronic Acid gel injection safe?
A: There are very few risks linked to the treatment of NeuramlsHyaluronic Acid gel injection,partly because hyaluronic acid naturally occurs in body and it is broken down by body. None of it remains in skin so that the skin does not suffer any damage.
Q: How long does the effect of hyaluronic acid last?
A:Treatment's effect is different for each person. In a clinical study, the treatment results lasted for 1 year after the first treatment session, for most of the patients,touch-up treatment can maintain the desired effect.
Q : How long will the treatment session take?
A :It is a very quick and easy process to be treated by Neuramls Hyaluronic Acid gel injection . As no pre-test needed, the treatment can be carried out immediately. A treatment generally takes 30 minutes.
Q: Does Hyaluronic acid injection hurt?
A: Most people find hyaluronic acid gel injection relatively painless. They may prick a little. If you like, a topical anaesthetic can be applied to the area being treated prior to your procedure. When enhancing the lips, local anaesthetic injection is often used.