Grape Seed is rich in Oligomers Procyanodolic Complexes (OPC) , which is a powerful antioxidant.It helps to strengthen the immune system, and also slowdown the aging process, which is of very high market value. Proanthocyanidin B2, which is the most active compound to neutralize free radicals that cause aging, is available only in Grape Seed. In Europe, OPC from Grape Seed Proanthocyanidins Extract has been adopted and used for several decades as a safe and effective compound. It has no record of any acute or chronic toxicity, no harmful reaction even under very high dosage. For these reasons, Grape Seed Proanthocyanidins Extract has become a new star in the food supplement market.
Product Name

Grape seed Capsule

Origin of Capsule

Gelatin capsule or customers requirement

Size

1#,0#,00# or as

customers requirement

Main Ingredient

Grape seed extract 100mg or as

customers requirement

Quality

Up to standard

Package

In bulk, bottle, blister or box

Storage

Store in cool and dry place, keep away from strong light.

Shelf life

Two years when properly stored.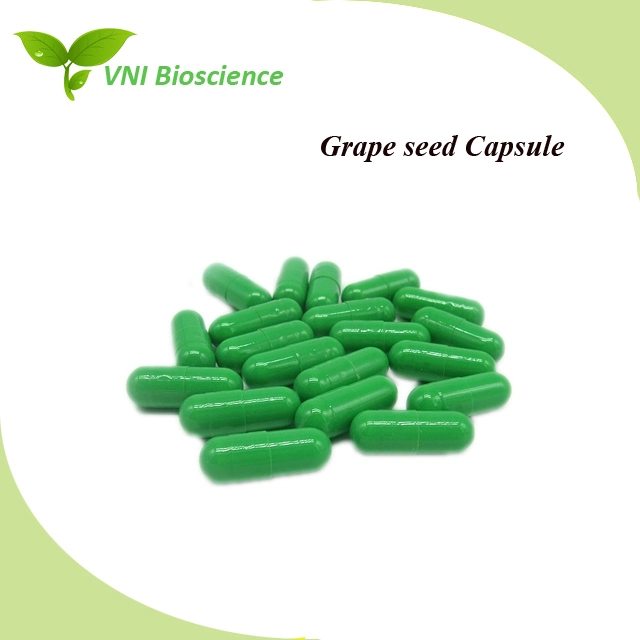 1. Antioxidant activity.
2. Eye health effects (degenerative eye can reduce the incidence of spots and cataracts)
3. Heart health benefits (reduced exercise-induced vascular sclerosis porridge)
4. Reduce cancer risk.
5. Enhanced vascular strength (strengthening the blood vessels the flexibility of the wall)
6. Has anti-inflammatory, removal of swollen.