High Quality OPC 95% Grape Seed Extract
Product Description
[English name] :grape seed extract
[Latin Name] :Vitis vinifera L.
[Active ingredients] :Proanthocyanidins , Polyphenols
[Specification]:Proanthocyanidins(OPC) 95% UV; polyphenols 70%, 90%, 95%
[Use Part]:seed
[Appearance]:reddish brown power
[Test Method]:UV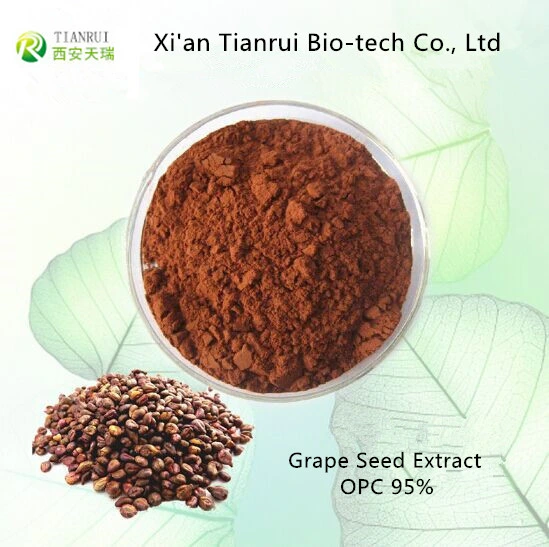 | | |
| --- | --- |
| Items | Grape Seed Extract |
| Appearance | Red Brown Powder |
| Oder | Characteristic |
| Taste | Characteristic |
| Paiticle size | 100% Pass 80 mesh |
| Loss on drying | ≤5% |
| Heavy metals | <20ppm |
| As | <2ppm |
| Pb | <5ppm |
| Assay | Result |
| Total Plate Count | <10000cfu/g or <1000cfu/g(Irradiation) |
| Yeast & Mold | <1000cfu/g or 100cfu/g(Irradiation) |
| E.Coli | Negative |
| Salmonella | Negative |
Grape belongs to Vitaceae, Vitis Linn. It's deciduous liane, originates from Europe, America, and Middle Asia, and now is widely cultivated in Xinjiang, Gansu, Shanxi, and Hebei. We use Xinjiang's unleavened stored grape seed as materials, which makes our products' OPC and antioxidation higher than congeneric products, moreover we take water as extract solvent, thus the water solubility reaches 95%.
Grapes have been heralded for their medicinal and nutritional value for thousands of years. European folk healers made an ointment from the sap of grapevines to treat skin and eye disease. The proanthocyanidins from grape seed are believe to treat skin and eye diseases. It's a natural substance available in capsule and tablet form. It is usually sourced from grape seeds provided by wine manufacturers.
Function
*Whitening
*Anti-aging and anti-wrinkle
*High effective anti-oxidants.
*Widely used in Health care products, cosmetics.
Application
1. Grape seed extract can be made into capsules, troche and granule as healthy food;
2. High quality Grape seed extract has been widely added into the beverage and the wine, cosmetics as the functional content;
3. Grape seed extract is widely added into all kinds of foods such as cake, cheese as the nurture, natural antiseptic in Europe and USA, and it has increased the safety of the food.
We are also focus on:
rosemary extract---rosmarinic acid 2.5~98%, carnosic acid 5~60%, ursolic acid 25~98%
mulberry leaf exract---1-DNJ 1~20%, flavonoids 15%
grape seed extract---proanthocyanidins 95%(OPC)
fenugreek extract---4-Hydroxyisoleucine 1~20%, total flavoniods 50%, furostanol saponins 50%
Why choose our TianruiBio ?
1.Free sample(10-20g or enough to detection) and Unconditional assume respons
2.100% Natural porduct, without any synthetize ingredient
3.Manufacturer direct supply,provide OEM,R&D service
4.Competitive price
5.Fast delivery by DHL,EMS,as your requirem, usually within 3 working days after confirming your payment
6.Material:Owning cultivation base as 100% Natural material stable source.
7.Testing equipment:UV, HPLC
8.Supply Ability:
a.Production capacity:60tons/month,large stock available;
b.Supplying conventional and customized plant extract products
Ms ivy
Xi'an Tianui Biotech Co.,Ltd
Address:Changan Road,Xi'an city ,China
Mobilephone:86-15877656700
......................................................................................................................
Shipping & Delivery
Transit could be DHL,UPS,TNT,EMS,Fedex,and so on.
For mass orders, it will be delivered by air or sea.
Depending on your location, please allow 1-5 business days for your order to arrive.
For small order, please expect 3-7 days by UPS DHL EMS.
For mass order, please allow 5-8 days by Air, 15-30 days by Sea.
We have our own planting base in Gansu & Ningxia, covering an area of more than 10000 acres, being convenient for production.
.....................................................................................................................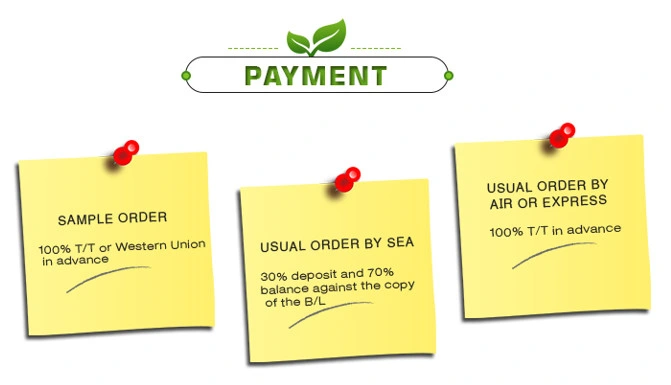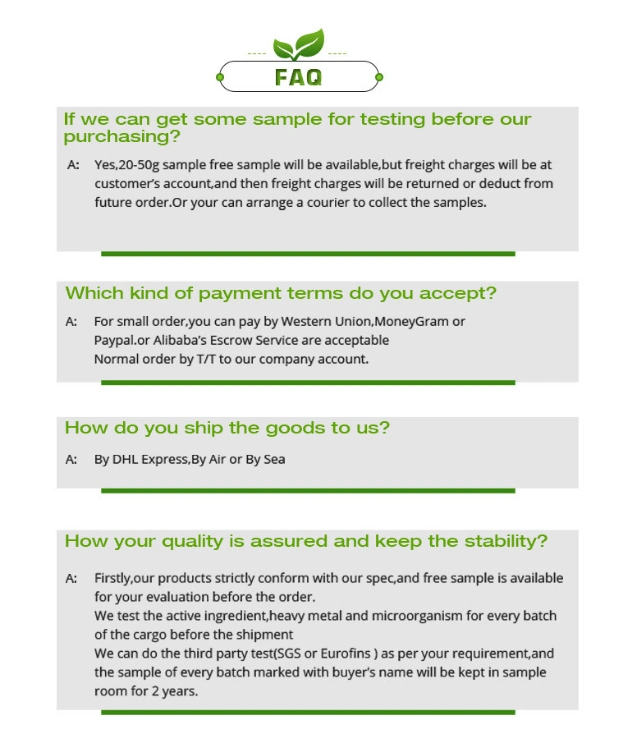 Contact with us
About Us
Xian Tianrui Bio - Tech Co.,Ltd is a professional manufacturer devoted to manufacturing all kinds of natural herbal extract.Most of our raw materials come from Chinese medical plant. At present we have plant bases of ourselves in Ningxia.Such as we have bases of Astragalus membranaceus and Radix isatidis, Burdock root, Codonopsis pilosula, Radix bupleuri, Sea buckthorn, so that sufficient raw materials of high quality can be supplied. The cost of our products be reduced at the same time we can supply products with more stable quality and more competitive prices.
Our products: Plant extract,Fruit powder,Enzyme powder